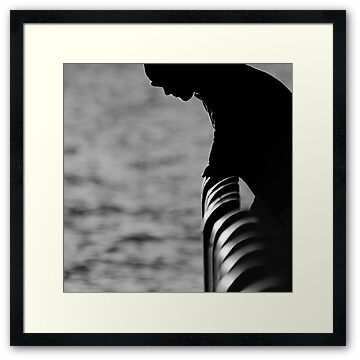 For something different, this Missing From the Exif, is more about how a photo can tell a different story to the subject matter, the location or even the composition of the original image. To be fair to the original image this is about a 20% crop, to remove some sun flare and the fact the image was a little top heavy.
Yet, this is the image that I saw through the view finder, that is it is the image I wanted. The only treatment to the image was to crop in Lightroom, with a slight push to the blacks. The image was shot in Auto No Flash Mode into a very clear setting sun, with my Sigma 150-500mm Lens at 500mm.
The reason for the 500mm for portrait photos like this, the subject often doesn't know you are getting the shot. I am also a big fan of portrait photography where a person tells a story, but that the person isn't the story at the same time. Makes sense to me, so I'll stick with that as an explanation.
The truth behind this photo is that, the frozen moment isn't real. Not with the title that I have given it. Whilst this image does feel like someone pausing for a moment in thought and reflection, they weren't. There was a young couple fishing off the pier, and he was just checking on some lines. He was in this position for only a few seconds.
Perhaps giving away the title of this image will remove some of the magic. For me, it might help you look at photography in more detail. Wonder what the image was, and what both the subject and the photographer are trying to say.
But yes, sometimes a good story, is just that.
The EXIF Data
| | |
| --- | --- |
| Camera | Nikon D7000 |
| Exposure | 0.001 sec (1/800) |
| Aperture | f/7.1 |
| Focal Length | 500 mm |
| ISO Speed | 200 |
| Exposure Bias | 0 EV |
| Exposure Program | Auto: No Flash |
| Date and Time (Original) | 2011:04:24 17:37:13.70+10:00 |
| Max Aperture Value | 6.3 |
| Subject Distance | 31.6 m |
| Metering Mode | Multi-segment |
| Focal Length In35mm Format | 750 mm |
| Lens | 150.0-500.0 mm f/5.0-6.3 |
| Lens ID | 206 |
| GPS Latitude | 37 deg 53′ 54.22″ S |
| GPS Longitude | 144 deg 59′ 5.36″ E |
| GPS Altitude Ref | Above Sea Level |
| GPS Altitude | 13 m |
| GPS Date Time | 2011:04:24 07:19:22Z |
| GPS Satellites | 10 |
| GPS Img Direction Ref | Magnetic North |
| GPS Img Direction | 175.7 |
---
and the image on Flickr: